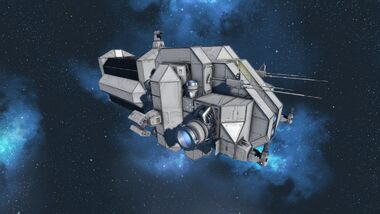 The Military Minelayer is a medium-sized, heavily armored ship that spawns
when the "Cargo Ships" option is enabled in the world options. It has an open cargo bay full of Warheads. It moves and turns slowly due to its relative lack of thrusters and high mass.
Info
Blocks:673
Conveyors: 57
Thrusters: 24
Lights: 3
Spotlights: 0
Gravity Generators: 1
Artificial masses: 0
Triangles: 1,097,163
Grid Masses: 1,777,126 Kg
Contents
Maneuvering systems
Defensive systems
Power systems
Cargo systems
Utility systems
Notes
Traps
Spoiler warning!
This article or section contains details about the game which players may be intended to discover on their own!
Trap Type
Location
Screenshot(s)
Thruster bomb
A thruster bomb trap is hidden behind a set of ramp pieces, just forward of the warheads stacked in the rear. It is possible to fly between the stacks of warheads diagonally to reach the front of the compartment and grind away one of the ramps to find one thruster with two more warheads not included in the total number above.

Small Thruster 22.
Gallery
Community content is available under
CC-BY-SA
unless otherwise noted.